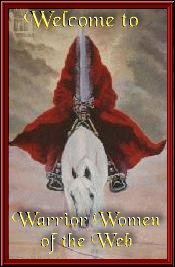 The Warrior Women of the Web Site has moved! The new URL is http://www.100megsfree.com/wwotw/index.html. Please correct your bookmarks and links. You should be automatically taken to our new site within a few seconds, if your browser doesn't cooperate, please click the link above. Thanks! see you there!



The Warrior Queen

I am the Warrior Queen!
The Defender of my people.
With strong arms do I bend the bow
And wield the Moon-Axe.
I am She who tamed the heavenly Mare
And rides the Winds of Time.

I am Guardian of the Sacred Flame;
The fire of all beginnings.
I am the Sea-Mare, the firstborn of the Sea Mother
And command the waters of the Earth.

I am Sister to the Stars
And Mother to the Moon.
Within my womb lies the destiny of my people
For I am the Creatrix.
I am daughter to the Lady with ten thousand names;
I am Epona, the white Mare.


- Tara Buckland

Sign Our New Guestbook
View Our Guestbook
View Our Old Guestbook
---
---
We would like to thank--with hugs and kisses--Kupo3 who helped us come up with the name, built and finished the original entrance page, and has lended nothing but support and assistance through the whole process. He is an honorary member, even though he's a guy!
---
Images used in the background, banner, and welcome graphic are © Diana Stanley - Visionquest Studios



Warrior Women of the Web © Joelle, Anderomeda, Ceilede, Wolfspirit and Emerald Punk. 1998, 1999, 2000 & 2001!

Website created and maintained by Joelle.